Chinese county goes into coronavirus lockdown
Chinese county goes into coronavirus lockdown as country tries to get back to work amid fear of second wave
Authorities order residents of Jia county to stay home after reports of cases linked to the area's hospital
All but a few essential businesses and services shut temporarily, according to government notice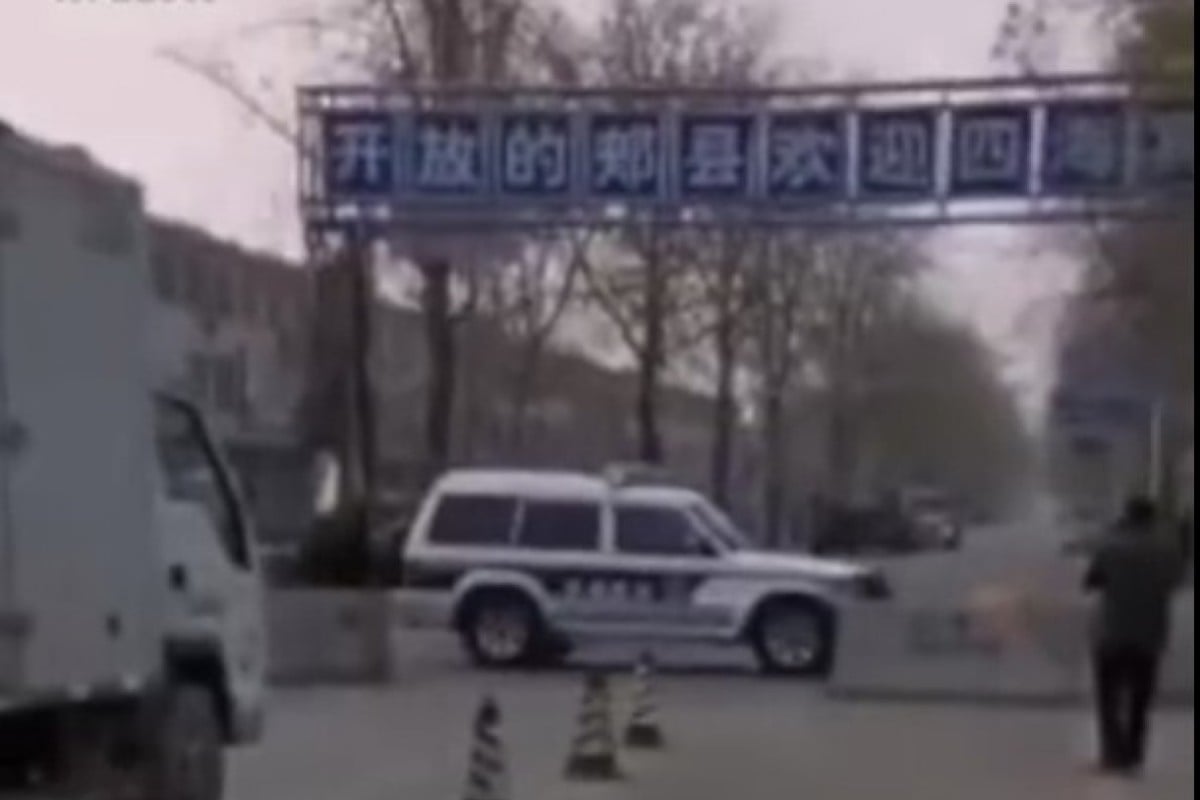 Henan province in central China has taken the drastic measure of putting a mid-sized county in total lockdown as authorities try to fend off a second coronavirus wave in the midst of a push to revive the economy.
Curfew-like measures came into effect on Tuesday in Jia county, near the city of Pingdingshan, with the area's roughly 600,000 residents told to stay home, according to a notice on the country's official microblog account.
Special approval was required for all movement outside the home, it said.
After months of restrictions to contain the spread of the coronavirus, China has reported a decline in domestic cases of Covid-19, the disease caused by the virus. On Wednesday, the National Health Commission reported 36 new infections – all but one imported cases.
Chinese leaders are eager to restart the economy but have stressed that it must be balanced with containment measures.
Coronavirus could cause global food shortages by April as export curbs worsen supply chain problemsDuring his recent inspection trip to Zhejiang province, President Xi Jinping emphasised that China must take careful steps to get life back to normal and warned officials to ensure "no loopholes" to prevent a return of the epidemic that has sickened more than 82,000 and killed over 3,300 people in mainland China alone.
According to the Jia county notice, residents must have special permits to leave their home and must have their temperature taken and wear face masks for those trips.CORONAVIRUS UPDATEGet updates direct to your inboxSUBSCRIBEBy registering, you agree to our T&C and Privacy Policy
All businesses have been shut down, except utilities, medical suppliers, logistics companies and food processing firms. All shops except supermarkets, hospitals, food markets, petrol stations, pharmacies and hotels have been closed.
In addition, only people with special permits can go to work and cars can only be used on alternate days, depending on their plate number.
China imposed draconian measures in Wuhan – the initial epicentre of the coronavirus pandemic – in January, sealing off the city of 11 million people to prevent the disease from spreading.
An official of the county's transport office confirmed the county had been put in virtual isolation.
"It's better not to come to Jia county now," the official said. "Nobody can enter or leave."
Local residents contacted on Wednesday said they were notified by the government about the lockdown.
Wang Xiao, 23, said she was told by her village on Tuesday afternoon.
She said the authorities urged residents to stock up on vegetables and daily necessities to prepare for the isolation, adding that each family could also assign one member to go out for groceries once every two days.
Wuhan residents shop across tall barriers as the city lifts restrictions
"I'm worried because it's so close to me," she said. "The hospital is only about 2km [1.2 miles] from my home. I had no idea that there were confirmed cases [of infection]."
Wang was referring to news reports that the county reported three infection cases on Sunday. According to the reports, a doctor surnamed Liu who worked at the county's hospital tested positive for the coronavirus on Saturday.
Liu returned to the county from Wuhan in January and resumed work at the hospital after completing two weeks of self-isolation, the report said.
However, Liu apparently passed the virus on to two colleagues at the hospital as well as a former classmate, with all of them testing positive on Sunday.
Police, public clash as border reopens between coronavirus epicentre Hubei and Jiangxi province
Although Henan is just north of Hubei province, where the coronavirus outbreak was first reported, it had only about a dozen confirmed infected patients as of Wednesday.
Wang Jun, a businessman in the county, said he had felt relieved because they could resume production and get back to work. But now he was very nervous about the lockdown.
"Previously no one knew what happened as there were rumours flying around of people have been infected and no one dared to go out," Wang said.
"Now, we know that the doctors were sick but our daily life has been affected."
Guo Rui and Echo Xie in Beijing
This article appeared in the South China Morning Post print edition as: County put under total lockdown